Scott Cooper Miami Project Awards Scholarship to Skylar Jones of Southeastern Oklahoma State University
MIAMI , FLORIDA, USA, May 9, 2022 /EINPresswire.com/ — The Scott Cooper Miami Project is pleased to announce that Skylar "Sky" Jones of Southeastern Oklahoma State University is the latest winner of the Scott Cooper Miami Scholarship. A new scholarship opportunity has also been announced (details below).
Skylar "Sky" Jones is a current high school teacher working to pursue a Master's in Education. Sky began theatre and dance at a young age and fell in love with the performing arts. She knew she wanted to become a teacher as a teenager, as she loves working with kids and guiding them in their own creative processes. Now, Sky gets to combine both of those loves as a theatre teacher. Sky loves her job, her husband, and her dog Tex. She is so excited to embark on this next chapter of life and her education.
Sky's essay is titled, "Will Smith, Chris Rock, & The Slap Heard Around The World" and can be read on the Scott Cooper Miami Scholarship website.
"I am so thankful to be selected as the recipient of the Scott Cooper Miami Scholarship!" said Skylar Jones, Scott Cooper Scholarship Winner, "Working full time and attending school makes for a full plate, and this scholarship takes a little bit of the added stress away. I am excited to begin my degree this summer and continue my career in education."
The scholarship application required each student to submit an essay on the following topic:
Will Smith shocked the world when he walked on stage and smacked comedian Chris Rock, who has just made a joke about his wife. The Academy of Motion Picture Arts and Sciences said Monday that it "condemns" Will Smith's actions at the Oscars and is launching a formal review into his conduct. The review comes following the intense public debate about whether Smith's actions were justified or unwarranted. Smith could be sanctioned if he is found to be at fault during the review, but it's not yet clear if the Academy would go as far as to take away the "Best Actor" award he won later that night. If you were advising the Academy, how would you suggest they handle the Will Smith and Chris Rock situation?
NEW SCHOLARSHIP OPPORTUNITY
The Scott Cooper Florida-based Miami Scholarship just announced its newest scholarship opportunity. Students are required to submit an essay on one of two topics.
(1) The Supreme Court has voted to strike down the landmark Roe v. Wade decision, according to an initial draft majority opinion written by Justice Samuel Alito circulated inside the court. What does this mean for America?
(2) Why do you believe the media has taken such an interest in the Russia-Ukraine War compared to other conflicts around the world?
Applications are due by June 15, 2022, and the winner will be announced on July 15, 2022.
ABOUT THE SCOTT COOPER MIAMI SCHOLARSHIP
The Scott Cooper Miami Scholarship is an arm of the Scott Cooper Miami Beach Project. It is a private research organization that provides an investigative reporting platform. It proposes solutions to public policy challenges and focuses on "forgotten communities" throughout the world with the goal of making them safer and more secure, healthier, and more prosperous. By creating awareness through various digital marketing platforms, Scott Cooper Miami Florida partners with small organizations, to give them a voice and fight for those that have been unable to deliver their message.
The Scott Cooper Miami Project is nonprofit and nonpartisan and committed to the public interest.
Scott Cooper Miami Announces Scholarship Winners

NOVEMBER 18, 2019
Scott Cooper Miami is pleased to announce that two winners have been selected for the Scott Cooper Miami Scholarship. "There were many impressive applicants but two stood out. Madisyn Travisano and Renee Yan will each receive $500 to put towards their education," said Scott Cooper.
"Wow thank you so much for this award. I'm so grateful for this and to your organization!" said Madisyn Travisano.
"Thank you so much for the scholarship. I am so grateful and appreciate it so much, said Renee Yan.
Madisyn Travisano is currently a sophomore at Seton Hall University. Madisyn is majoring in Journalism with a minor in Sports Media and Political Science. The public figure she chose to write her essay about was Winston Churchill, the former Prime Minister of Great Britain. Madisyn correctly stated in her essay, her choice "isn't necessarily someone that most people in my generation would pick."
Renee Yan is currently a freshman at the University of Buffalo and is majoring in biology. The public figure she chose to write her essay about was Malala Yousafzai, the Pakistani activist for female education. Malala spoke out against the Taliban and was the victim of a failed assassination attempt. She is also the youngest Nobel Laureate. Renee stated that "not everyone is fortunate enough to get an education" and "when I hear girls who aren't grateful for their education, I try to remind them what Malala had to go through for her's."
Scholarship Winners Announced
Scott Cooper Miami Grants Scholarship to Student From Chihuahua, Mexico
July 22, 2020

SCHOLARSHIP WINNERS ANNOUNCED!
The award was granted to Bonnie Van Wormer of El Paso, Texas.
"I am very grateful to receive this scholarship. I've dreamt of going to college from a very young age and am so excited to be closer to that goal," said Bonnie Van Wormer. "As the oldest child in a very large family, the cost of a good education was a daunting thought. However, even the goals in life that seem far off or intimidating, can be reached as long as we walk toward them one step at a time. Thank you to each and every person who helped make this a possibility for me and for so many other students like myself."
Bonnie answered the question, "God and coronavirus: Is Humanity being sent a message?"
Scholarship Winners Announced
The Scott Cooper Miami Scholarship of Florida
Announces Two New Awards
JANUARY 27, 2020

SCHOLARSHIP WINNERS ANNOUNCED!
The first award recipient was Heidi Greenfield of Seal Beach, California. Heidi currently attends Pepperdine University. "I am honored to be chosen for the Scott Cooper Miami Scholarship award!" said Heidi, "Thank you for allowing me the opportunity to continue my education." Heidi's essay suggested a traditional approach to grant all immigrants temporary work visas with a path to citizenship but also focused on "reducing the animosity towards immigrants by ensuring everyone is contributing toward a better society."
The second award recipient was Erica Rawlins of Snelville, Georgia. Erica currently attends Syracuse University. "The Scott Cooper Miami Scholarship is such a blessing, especially in my final semester at Syracuse University." said Erica, "I am eternally grateful to this organization for pouring into my academic career." Erica's essay suggested a unique approach to the immigration crisis. Rather than continue to vilify our nation's immigrants, her suggestion was to relocate immigrants to small towns across the United States where young residents have been historically fleeing for better work opportunities in the city.
view press release
view press release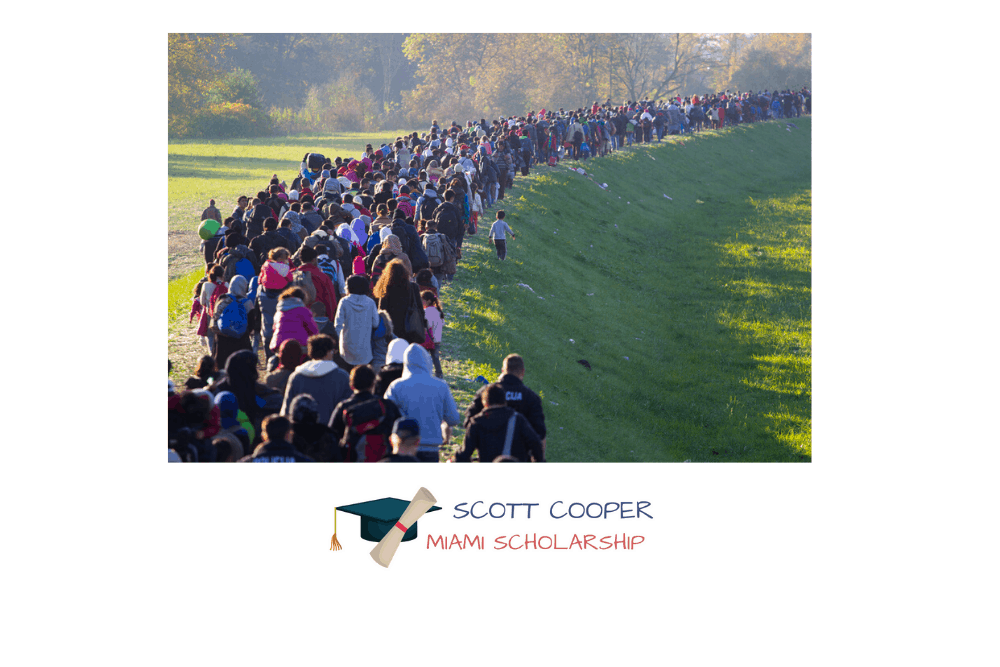 Madisyn Travisano
Seton Hall University,
Sophomore

Most Admired Public Figure


Winston Churchill
Renee Yan

University of Buffalo, Freshman

Most Admired Public Figure


Malala Yousafzai